Measure your productivity, get AI suggestions.
Use Screen Time on your
Windows PC
With Screen Time for Windows, you can access real-time reports showing how much time you spend on your Windows PC.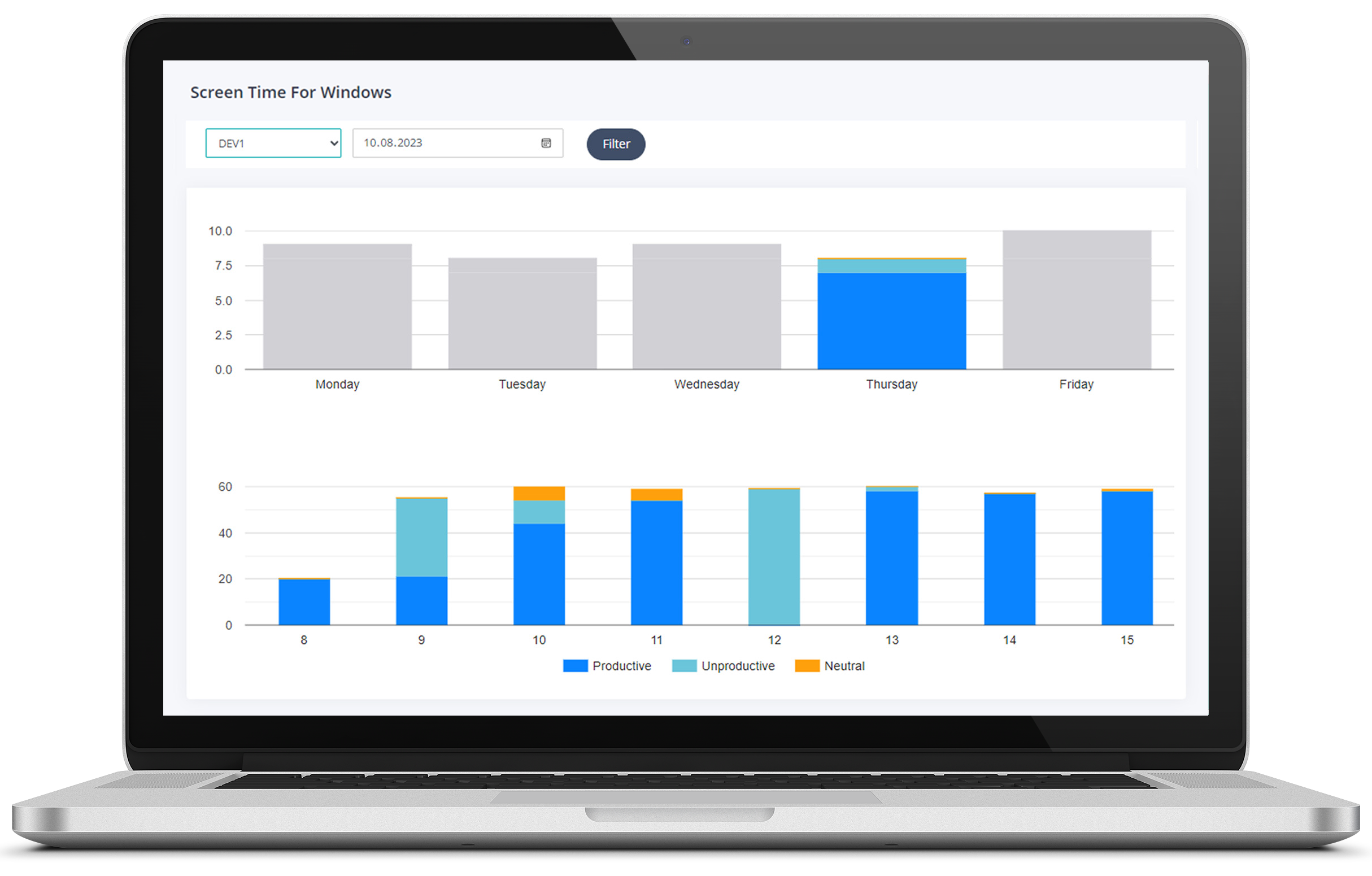 Track app and website usage with Screen Time
Use Screen Time to see how much time you, your team and your kids spend on apps, websites, and more. Then make informed decisions about how you use your devices, and set limits if you'd like to
Daily and Hourly Reports
You can see your monthly, weekly, daily and hourly computer usage times on the report screen.
AI Productivity Insights
MonitUp Screen Time for Windows processes the data of the previous week it collects and generates suggestions for you to increase your productivity thanks to the integration of artificial intelligence.
Application List
You can divide the applications into 3 different categories as efficient, inefficient and neutral. Thus, all productivity reports will be calculated according to the applications you have determined for you or your company.
Productivity Report
With the productivity report, you can easily report the productive, unproductive, neutral and total working hours of your employees in two date ranges
Fully Customizable
You can categorize the applications you use as productivity, unproductivity and neutral according to your work or the way you work. Thus, MonitUp will measure your productivity..
Regular Updates
The system automatically updates itself when we add a new feature or release improvements for MonitUp. So you can just focus on your work.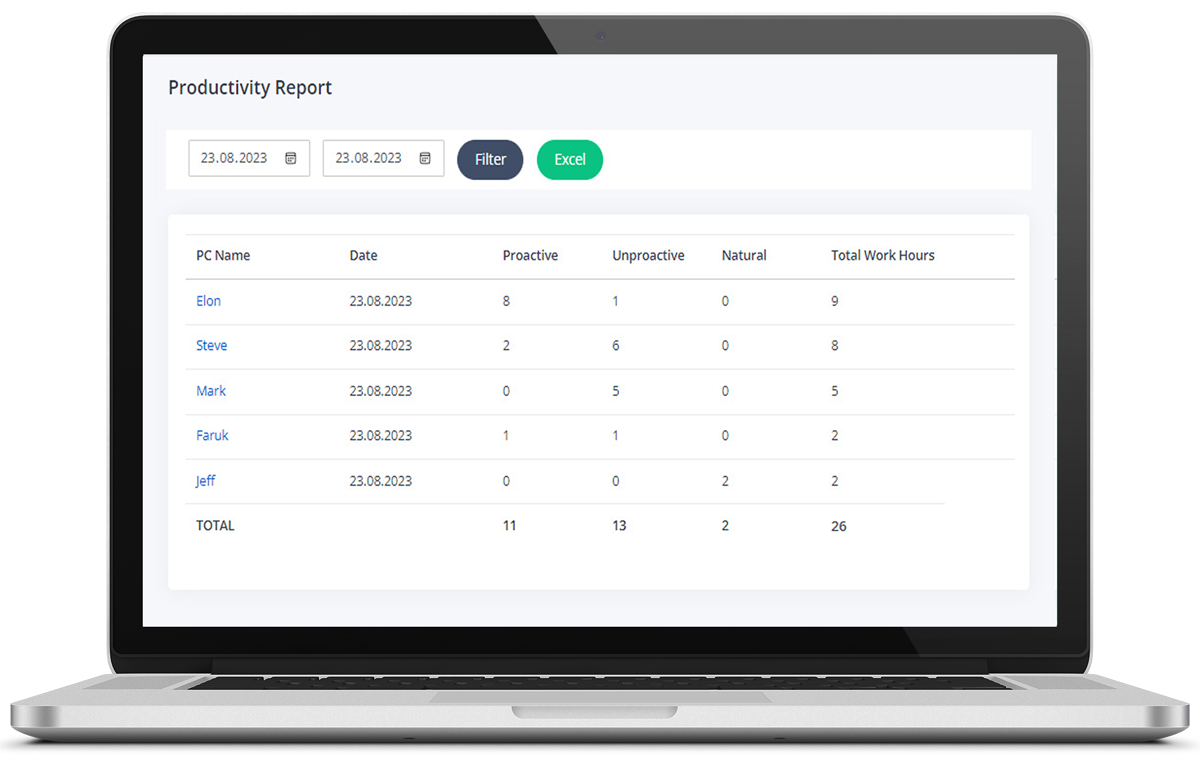 What is Screen Time for Windows?
Get ready to increase your productivity
Screen Time for Windows is a feature that tells you how much time you spend on your Windows PC every day and which apps you use the most. This information can be surprising, even shocking, to some of us — and if we use it correctly, it can also be lucrative.
01
You cannot manage what you cannot measure!
Measure your productivity and identify unproductive practices and times.
02
Get AI suggestions!
Based on your computer usage habits, MonitUp offers you AI suggestions to be more productive.
How productive was your day?
Review your day quickly and easily.
With Screen Time for Windows, you can see how much time you've spent on each app daily or weekly. This way, you can quickly identify if you're spending too much time on a particular app. Don't worry if you miss something; Screen Time for Windows will guide you with AI suggestions.
Start Your 7-Day Free Trial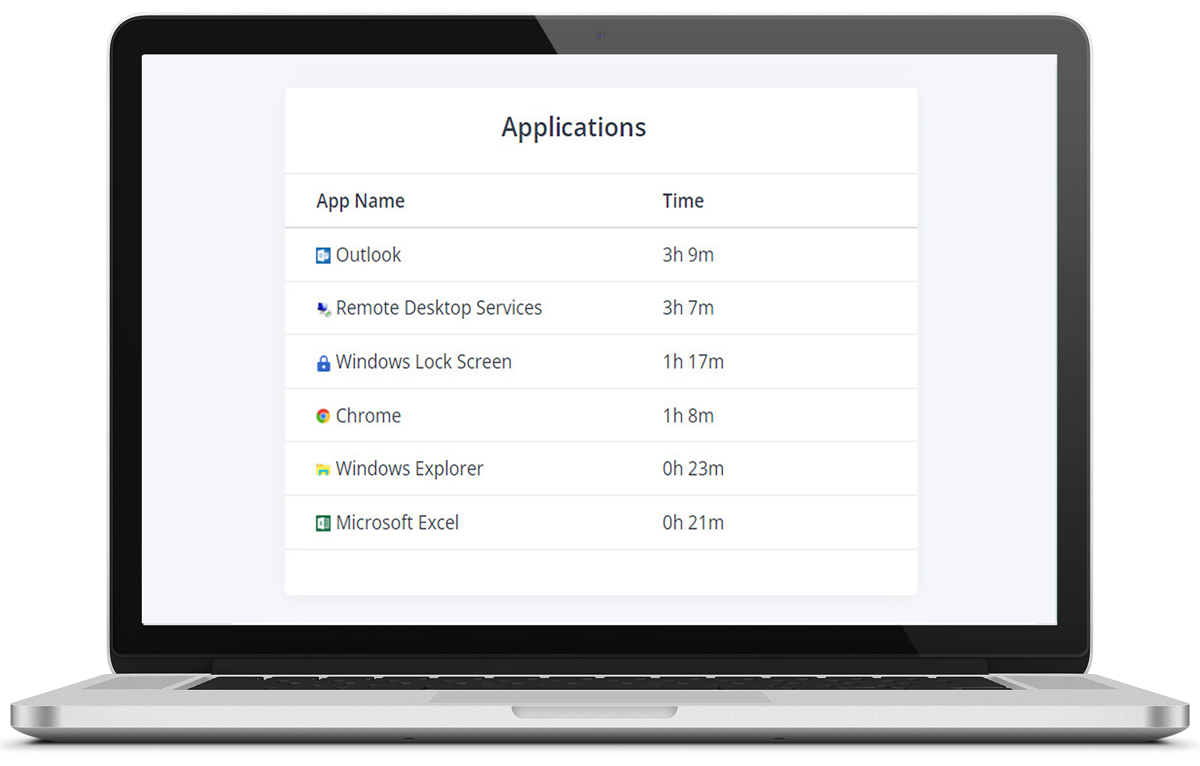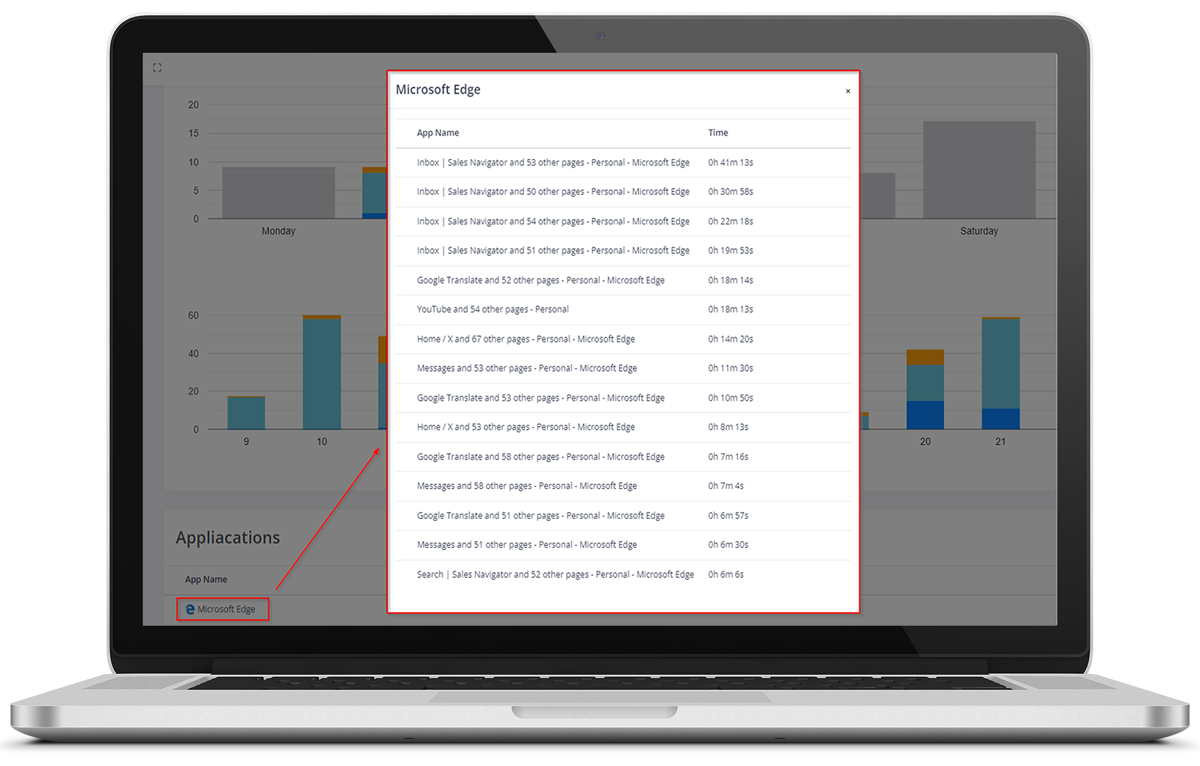 More detailed data?
You can track how much time you've spent on which app, website or file in total
Screen Time for Windows monitors your activities while your computer is on, tracking how you spend your day. You can view both a summary of your day and detailed insights, allowing you to take action to boost productivity. Screen Time for Windows also tells you how much time you've spent on which applications, websites, or files in total.
Start Your 7-Day Free Trial
Ready to unlock your potential with AI tips?
Screen Time for Windows redefines productivity
It's not just a tool; it's your personal productivity coach, working tirelessly in the background to help you become the most efficient version of yourself. Imagine having a tool that reveals how you spend every minute on your Windows PC and which apps consume the most of your precious time. The insights it provides can be eye-opening, often revealing surprising habits. But what sets Screen Time apart is how it transforms this data into actionable steps that can significantly impact your productivity and, in turn, your success.
01
Personal Growth
Screen Time fosters self-awareness and encourages personal growth. Understand how you spend your time and make improvements where necessary.
02
Reduced Stress
Eliminate the anxiety of missed deadlines and excessive workloads by efficiently managing your time.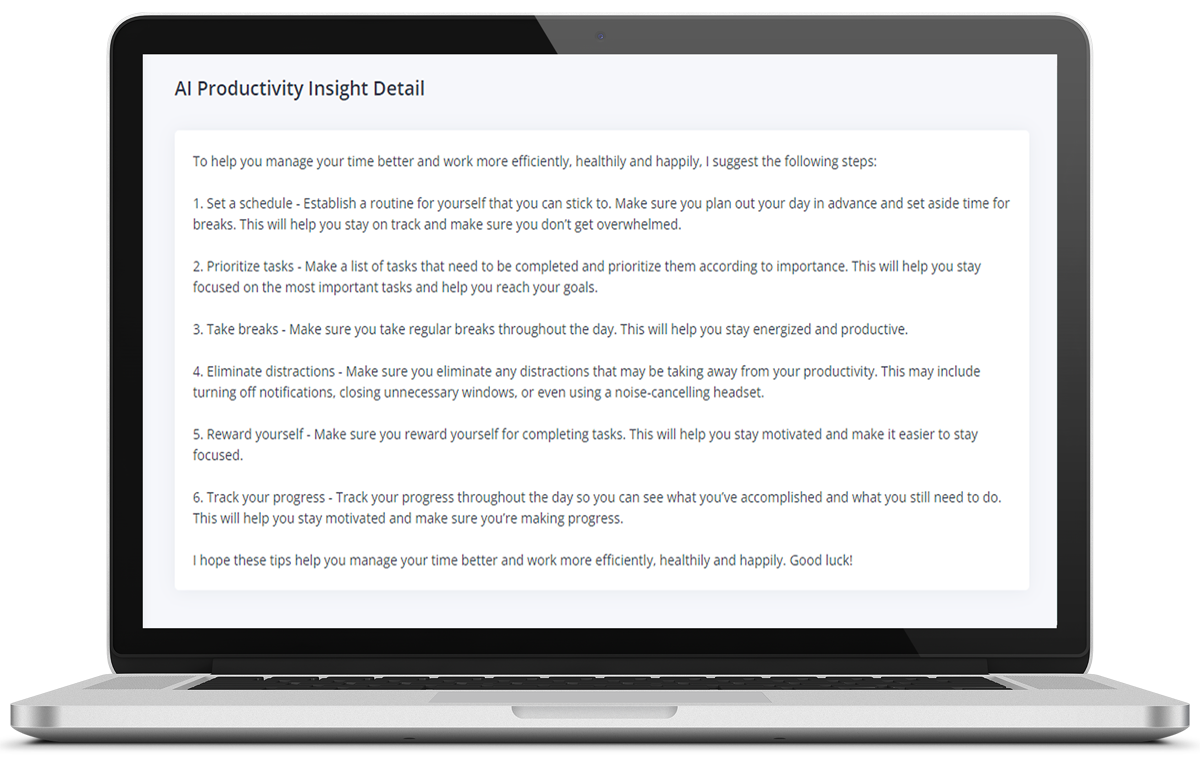 How it Works?
Activating MonitUp is quite simple, download the app, install it and measure your efficiency! MonitUp runs in the background, has no interface, activates automatically when the computer is turned on and helps you increase your productivity.
Install the app
Download and install the application. The installation process is very simple.
Focus on your business
MonitUp runs silently in the background, has no interface and does not ask you to enter data. It keeps track of how much time you or your team spend in which app.
Enjoy the data!
Monitor your computer usage habits, track your time, monitor your productive and unproductive times, and get AI suggestions to be more productive.
Pricing
Manage your workforce. Supercharge productivity. Start free.
Screen Time
Free 7-day trial. 30-day money back guarantee.
$ 4 / user / mo
Apps & URLs Tracking
AI Suggestions
Productivity Report
Identifying Productive Apps
Silent Tracking
Available for Windows OS
Choose Plan
Frequently Asked Questions
Curious about how Screen Time for Windows works and how you can use it to your advantage?
It's a great idea to keep tabs on your screen time. MonitUp's time tracking feature, Screen Time, gives you a high-level overview of the apps you're using the most. That said, Screen Time only gives you a basic overview.
You can log in with your account on the MonitUp website and view your current data or retrospective computer usage habits.
Your data for the last 365 days is securely stored.
Screen Time is a great way to see how much time you're spending on your Windows computer. This will tell you which apps you use the most and how much time you or your team spend on them each day. If you need more details or want to track time spent on specific projects, consider using the MonitUp PREMIUM package.
Latest News & Blogs
You can find some important content and information about MonitUp and productivity from the list below.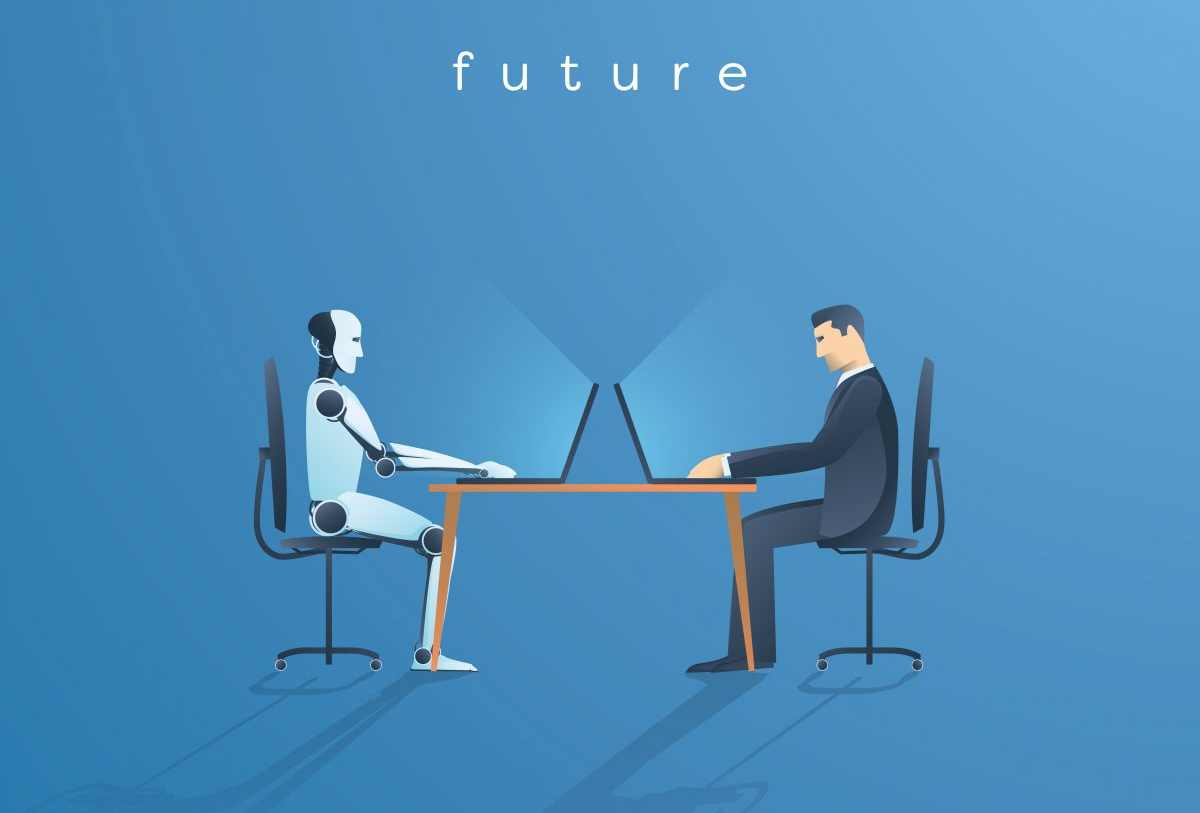 With the rise of technology, companies have access to more data than ever before, but it can be overwhelming to sift through all that information and turn it into actionable insights.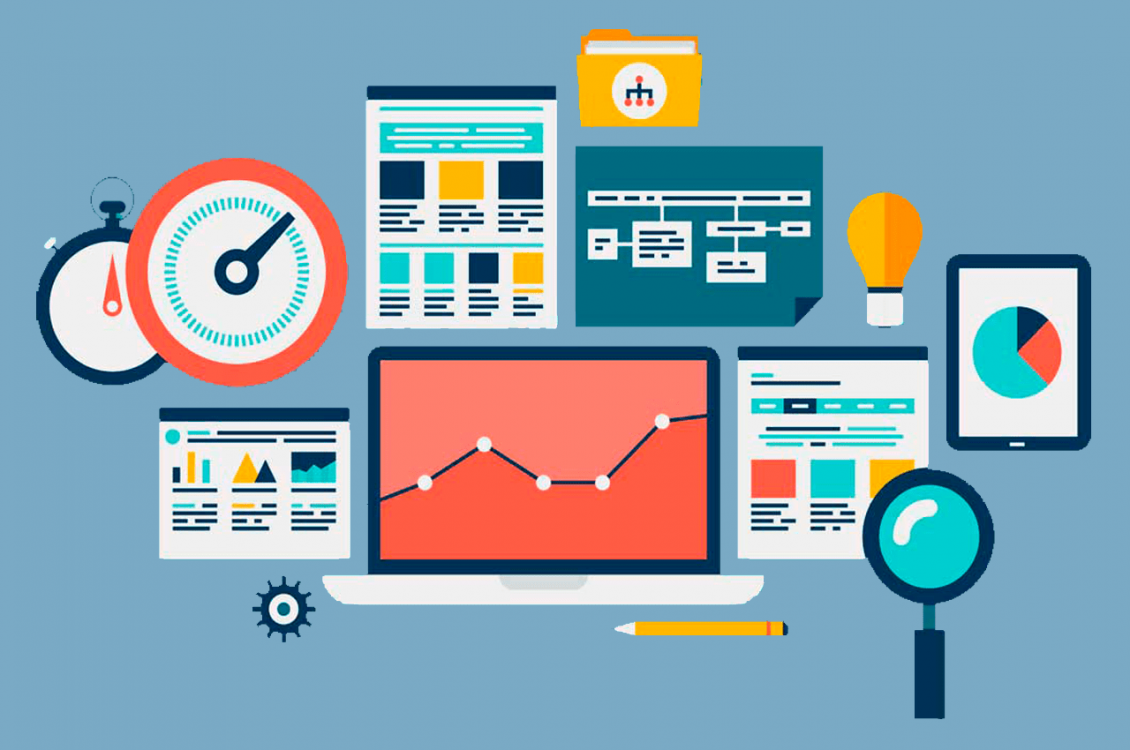 Whether you're a student, a professional, or an entrepreneur, optimizing your workflow can help you achieve your goals and succeed in your endeavors.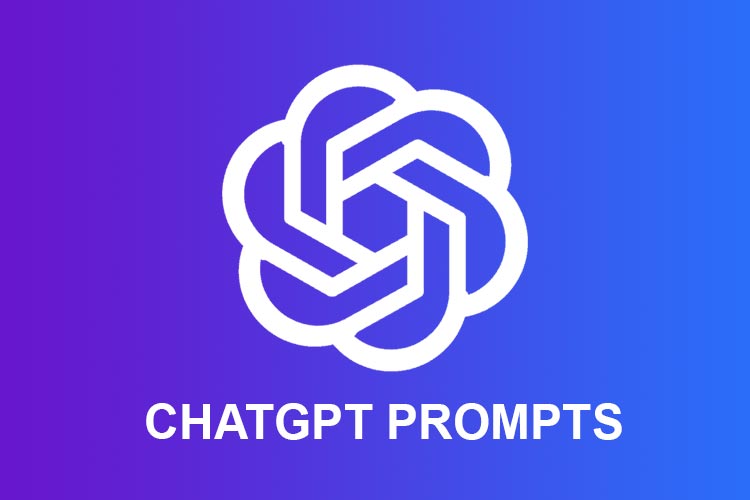 Chatbots have become an integral part of our daily lives, providing quick and easy access to information and help.